EOS 150
You will earn
2497
loyalty points with this purchase
Product information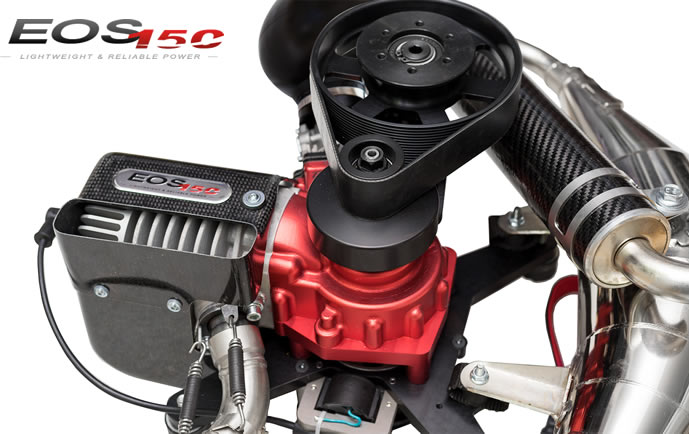 The new bigger EOS 150 engine is based on the concept and development of the smaller EOS 100 Booster ICI and features with:
Lightweight & compact construction
In comparison to the competition in the same or similar class of displacement the engine is very light, built small, nicely and compact with the use of only highest quality materials. Well manufactured in all details by the use of most modern techniques with a smart constellation of components which are perfectly working together.
Optimum operation
The engine is easy to start up, with a smooth and constant run at idle. The carburetor with adjustable L and H jets together with the unique HIFLOW-SHOT air box care for an even run in all revolutions and can be customized for different locations of operation. Perfectly balanced crankshaft, fly wheel and shafts care for a low vibration. The fan cooling prevents the engine against overheating and allows long duration runs at full power.
Power & thrust
Despite the small size and comparable low weight, the moderate compression ratio for a durable and long life span, the engine creates an optimum thrust and a lot of power.
Reliable quality
The well proven engine concept and the use of highest quality materials and components, the best workmanship and accurate engine assembly, all grant for a highest quality product and reliable engine run throughout a long period of operation.

Equipped with the ICI ignition system such as the EOS 100 Booster ICI.
EOS 150 - compact design, lightweight & reliable high power!
Technical Data
Easy Starter
Components

- light weight
- simplicity
- short build in length
- smooth quiet running
- low consumption
- fan cooling
- centrifugal clutch
- membrane carburetor with choke
- coil ignition with long life span
- auto decompressor function for easy start-up pull
- reliable
- reasonable price
- made in Austria

Download Technical Datasheet


Download Technical Drawing


engine
one cylinder 2 stroke
displacement
154cc
stroke
52,5mm
bore
61mm
compression ratio
1:10,5
gear ratio of belt drive
1:3,5
carburetor
Membran Walbro WB 37
spark plug
NGK BR9HS, B9HS, BR10HS, B10HS
power
25,7PS (18,9KW) at 9000U/min.
thrust
>66kg / >70kg 125cm / 130cm prop
starter
rope hand starter / EASY-STARTER
cooling
fan cooling
average consumption
3,3 - 4l/h
fuel inlet
Membran, Fiber Reed Valve
air inlet
HIFLOW-SHOT Air Box
fuel recommendation
unleaded 98 Octane
fuel mixture
2%
2-stroke oil
full synthetic
weight
(w.o. exhaust)
9,85kg
weight
(with exhaust - all complete)
12,2kg
exhaust
Nickel plated
max. build-in length
21cm
dimensions
57x34x25cm
propeller recommendation
(rotation anti clockwise)
diameters 125cm or 130cm
EOS P&T Carbon 2-blade

The new EASY-STARTER hand pull starter - for EOS 100, EOS 100 Booster (ICI) and EOS 150 -

Advantage over the standard starter
remarkable less pull force
no kickback / no recoil of the compression force to your hand while pulling
more momentum and acceleration for the start-up
easier engine start-up
How does it work
In addition to the recuperating spring there is a separate special spring mechanism activating
the momentum for the start-up in a delayed but intensified and stroke absorbing mode.
Optional part
The new EASY-STARTER can be ordered together with a new engine as an option for a
surcharge as an alternative replacing the standard hand starter, or by separate to upgrade
older engines.
Click To Download The EASY-STARTER brochure